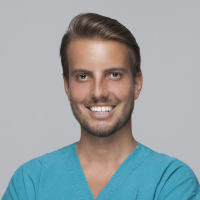 Dr. Mario Romandini is invited Professor in Periodontology and Implantology at both the University of Valladolid and Periocentrum Academy; he is also an EFP-board specialist in Periodontology and a PhD Candidate at the Complutense University of Madrid. 
Previously he worked as full-time researcher at Complutense University of Madrid, where he also completed the 3-years specialization in Periodontology and a Master of Science. Before moving to Spain, he graduated in Dentistry at Catholic University of Rome and did a 3-years specialization in Oral Surgery at the University of Chieti. 
He is author of several scientific publications in international journals, and received several grants/awards for  both research and clinical activities (including from the Osteology Foundation, SEPA Foundation, Eklund Foundation, Proclinic).
---